Changelog
DR2
Data Release 2.1 (2018-05-09)
New Features
The gaia_dr2_id column has now been populated with Gaia DR2 source_id. As the input catalogue for GALAH DR2 is 2MASS, for cross matching we have used the tmass_best_neighbour table created by Gaia.
Bug Fixes
There was a bug related to how the gravitational redshift correction that was applied to the rv_obst, e_rv_obst, e_rv_nogr_obst columns. The size of the effect is between –0.7 km/s and 0.1 km/s for rv_obst. Note that this bug did not affect the rv_nogr_obst columns. See the Table Schema for a description of these columns.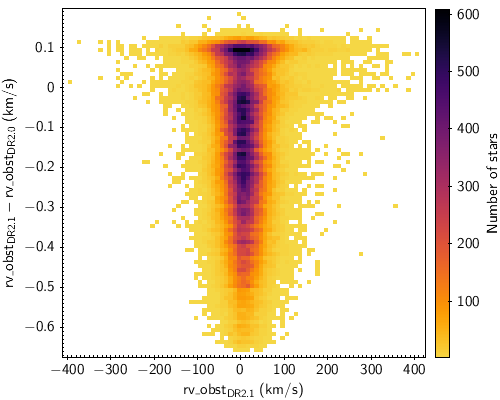 Median spectra
In the process of calculating the data-based radial velocities (rv_obst in the DR2 table), we have produced median spectra for well-populated regions of the effective temperature - surface gravity - metallicity parameter space. These are fully described in Zwitter et al. 2018, and can be directly downloaded.
Data Release 2.0 (2018-04-18)
GALAH DR2 contains stellar parameters and abundances for 342682 stars observed as part of the main GALAH survey between 2014 January 16 and 2018 January 29. A full description of its contents can be found on the What's in GALAH DR2? page.